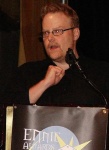 In a move that took most industry observers by surprise Monte Cook has announced that he has left the design team working on the next iteration of
Dungeons & Dragons
. Writing in his
livejournal
, Cook explained "My decision is one based on differences of opinion with the company. However, I want to take this time to stress that my differences were not with my fellow designers, Rob Schwalb and Bruce Cordell. I enjoyed every moment of working with them over the past year. I have faith that they will create a fun game."
Cook's departure is a definite blow to the design team. He has been a professional game designer since 1988, and was one of the lead designers (along with Skip Williams and Jonathan Tweet) on the Third Edition of D&D, before he left Wizards of the Coast in 2001 to write material for the d20 System including the highly regarded Arcana Unearthed. His return to WotC in 2011 as lead designer for the fifth iteration of D&D was widely hailed as a great move by the company that was seeking someone with an outside perspective to reboot the D&D franchise after the acknowledged shortcomings of the game's Fourth Edition.
Cook's decision evidently took team leader Mike Mearls by surprise as he wrote in his
Legends and Lore
column, "I am surprised and frankly saddened by Montes decision to leave the
D&D Next
design team."
However it does not appear that Cook's departure will slow the progress of the
Fifth Edition of D&D
, which WotC currently refers to as "
D&D Next
." To reassure players that the new version of
D&D
, which WotC has promised to fashion with a significant amount of feedback from players (see "
Dungeons & Dragons 5.0 in 2012
"), is still on track, Mearls went on to point out that the crucial public playtest of the new
D&D
game will begin on May 24th.