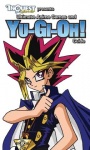 Wizard Entertainment has announced that it will be publishing Ultimate Anime Games and Yu-Gi-Oh! Guide, a one-shot from InQuest Gamer, in May.

The magazine will include coverage of the Yu-Gi-Oh, Dragon Ball Z, and Pokemon card games, including news on upcoming releases, gameplay and collecting tips, and prices.

There will also be a pull-out poster with the Top 50 Yu-Gi-Oh! Cards as selected by InQuest.