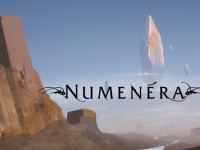 Monte Cook's Numenera, a new post-apocalyptic science fantasy roleplaying game has passed $317,000 in funding on Kickstarter with five days to go, blowing away the goal of $20,000. The game will be set a billion years in the future, after many civilizations have risen and fallen on the Earth, leaving vestiges of their existence in a largely medieval world. The Ninth World, as it's called, will include both valuable vestiges of past societies and dangerous ones, including genetically altered monstrosities, alien creatures, and out-of-control nanobots, among others.
Cook is writing the game, with art by Kieran Yanner. It's planned to ship next summer. Cook recently exited the design team for the next edition of Dungeons and Dragons (see "
Monte Cook Exits 'D&D Next' Design Team
").
Domestic and foreign retailer packages are being offered.