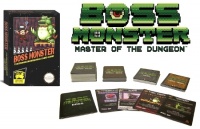 New company Brotherwise Games will launch Boss Monster, a "dungeon-building" card game inspired by classic video games, to hobby retailers in Spring 2013. Players will compete with other video game-style bosses, the apex predators of gaming, to build the most lethal side-scrolling dungeon with minions, traps, and spells. Illustrators include Katrina Guillermo (Super Apartment Bros.) and Kyle Merritt (EvoCreo).
Brotherwise was formed by brothers Chris and Johnny O'Neal (Johnny was formerly a Senior Brand Manager at Spin Master).
Boss Monster is being funded as a Kickstarter project; current funding levels ensure at least one expansion in 2013.