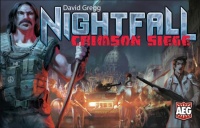 Humanity's last stand in the Vatican is the setting for the fifth Nightfall expansion from AEG, due out this fall.
Crimson Siege introduces a new "Summon" mechanic to the game. This ability allows players to draw cards from a separate summoning deck. The principal minion that can be summoned in Crimson Siege are "Ghouls," which unlike other minions return to the deck when destroyed.
This expansion set will include 84 new minion cards and 84 new action cards, in addition to 30 summoned ghoul cards and 26 card dividers. This is not a stand-alone expansion: a copy of Nightfall, Nightfall: Martial Law, or Nightfall: The Coldest War is required. The suggested retail price is $29.99.