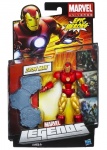 Toy sales are running at 5 to 6% below last year going into the holidays, according to BMO Capital Markets toy analyst Gerrick Johnson, as reported by
CNBC
. Early season sales in September and early October were good, but those now appear to have been sales pulled forward by layaway plans, the report said.
If current trends continue, the toy market would show the worst year over year change since the analysts's report began in 1980. A lack of hits was the biggest reason cited for the soft sales to date.
Hasbro was having trouble with its boys category, according to its most recent quarterly report (see ""
Hasbro's Game Sales Stabilize
"), with the category down 12% vs. 2011 in Q3, although games had stabilized, led by growth in its Wizards of the Coast division.