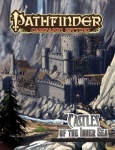 A new sourcebook featuring strongholds and fortresses of Golarion has been scheduled for release in April by Paizo Publishing. Castles of the Inner Sea is intended for gamemasters running games set in the Pathfinder campaignsetting, but will be suitable for use with any fantasy role-playing game.
Castles of the Inner Sea will be a 64-page soft cover sourcebook describing six different castles. Each castle is described in detail, and includes interior maps, illustrations, and descriptions. The castles featured range from the magically built "Castle Everstand" to the frozen ruins of "Icerift Castle."
The book was written by Tim Hitchcock and Alyssa Faden and includes full color throughout. The suggested retail price will be $19.99.