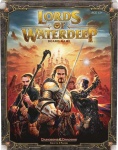 Wizards of the Coast is planning a Gen Con unveiling for the
Lords of Waterdeep: Scoundrels of Skullport Expansion
(MSRP $39.99) for the award-winning
Lords of Waterdeep Dungeons & Dragons
-based board game, which was released earlier this year (see "
'Lords of Waterdeep'
"). The
Lords of Waterdeep
board game was judged the second-best "Strategy Game" of 2012 by
Games Magazine
(see "
Games' Best List
").
Scoundrels of Skullport, which was designed by Peter Lee and Rodney Thompson, who designed the original Lords of Waterdeep game, actually contains two expansions for the Lords of Waterdeep D&D board game, "Undermountain"" and "Skullport," both of which were inspired by the vast dungeon and criminal haven underlying Waterdeep. Players can utilize one or both of the expansions when playing a Lords of Waterdeep game.
Though no picture of the
Scoundrels of Skullport
expansion has been released,
Amazon
does feature a listing for the game, which has a Gen Con-friendly release date of August 20th, 2013. The expansions also allow for the addition of a sixth player to the
Lords of Waterdeep
game, and it adds a new resource to the game, "Corruption." The "Undermountain" expansion features bigger quests and additional ways to add adventure elements to games, and the "Skullport" expansion adds new Lords, new buildings, plus the set-up materials for a sixth player.