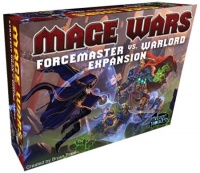 Arcane Wonders has announced the early 2013 debut of the
Forcemaster vs. Warlord Expansion
for its
Mage Wars
customizable card-driven tactical board game of dueling mages (see "
'Mage Wars' Debuting at Origins
"). The
Forcemaster vs. Warlord Expansion
(MSRP $39.99) includes 216 spell cards, 2 mage cards, 2 ability cards, cardboard markers and rules (see "
First 'Mage Wars' Expansion
").
The expansion provides the opportunity for players to adopt the roles of two new mages, the enigmatic Foremaster, a master of mind magic and telekinetic force, and the Warlord, who channels the power of Akiro, the God of War. Together these two new mages put the focus on two schools of magic that were not emphasized in the Core Set release, the Mind School of Magic, and the War School. This expansion provides the opportunity to pit a frontline fighter (the Forcemaster) against a powerful commander (the Warlord) in order to try out new strategies and tactics.
The Forcemaster vs. Warlord release is an expansion, not a stand-alone game. It requires The Mage Wars Core Set in order to play.