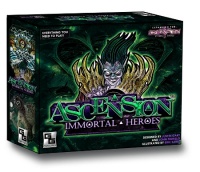 Ascension
deckbuilding game publisher Gary Games has become Stone Blade Entertainment, effective immediately, the company announced Friday. The rebranding comes as the company is expanding beyond its tabletop gaming roots to its first videogame,
SolForge
, for PC and iOS.
SolForge
was designed by Justin Gary and
Magic: The Gathering
designer Richard Garfield and funded via a September Kickstarter, which raised $429,715.
The most recent
Ascension
release was
Ascension: Immortal Heroes
(see "
'Ascension: Immortal Heroes'
").