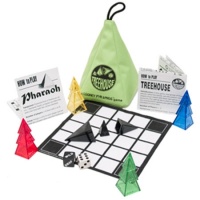 Treehouse (with Pharoah)
Publisher: Looney Labs
Release Date: 2006
MSRP: $16.00
Number of Players: 2 to 4
Playing Time: 5 to 10 minutes
Age Rating: 8 and up
Product #: LOO-046
ICv2 Rating: 4 Stars out of 5
Publisher: Looney Labs
Release Date: December 2012
MSRP: $12.00
Number of Players: 2
Playing Time: 5 to 10 minutes
Age Rating: 8 and up
Product #: LOO-063
ICv2 Rating: 3 Stars out of 5
My second foray into the world of "Looney Pyramids" was, I have to say, as satisfying and fun as my first. This time I had a grand total of three Pyramids games to try out: Treehouse, Pharoah, and Pink Hijinks. For those unfamiliar with the Looney Pyramids line, it's something of a "game kit" using a set of high-quality stackable plastic pyramids. These common game pieces can be used in a number of games, and Looney Labs provides rules for many of them on the web.
Summary: The Treehouse set includes two games. Treehouse itself is actually not new. It was originally released in 2006 and is something of a cornerstone to the Looney Pyramids world. It is a clever little matching game. Each player has a set of pieces that he is trying to make match the central "House" set by making a series of randomly-determined moves such as jumping pieces or tipping them over. The twist is that other players can change the House during play. The second game, called Pharaoh, is a "king of the hill" strategy game for two to four players. A player rolls a regular die to see how many moves he can make, trying to claim the center of the board (usually by pushing the other players out of the way).
Pink Hijinks is a rather random abstract strategy game where two players share a common set of pieces and try to either push all of them into his opponent's zone, or claim exactly three of a kind in his own zone.
Originality: I continue to be surprised and amused at the variety of games that the folks at Looney can come up with using the same core components, though none of these games in and of themselves are revolutionary designs. They all take elements that we have seen in other games before. It is the clever way that the components are used for new games that keeps the Looney Pyramids feeling fresh to me.
Presentation: For me, the presentation of these games is a real treat. The games are packaged in brightly colored pyramid-shaped nylon bags, snugly packed with the striking (if simple) pyramids and sealed with a zipper. Each pyramid bag has a handy loop at the top, so they are easy to transport and display. The game in play is pretty, too, with bright, colorful pieces and cloth playing mats. These are abstract games, and they look every bit the part.
Quality: This is something of a mixed bag, unfortunately. The pouches the bags are in are excellent quality: sturdy and well-designed. The pyramids themselves are also very good, made of strong plastic (but be careful: they do have sharp edges). The dice are nicely molded with clear icons and easy to read lettering. The cloth mats should be nice, but unfortunately the felt pile tends to grab the pyramid pieces, which is annoying and can disrupt the pieces in the game easily. Finally the rules are very brief, which costs them clarity in a few places.
Marketability: These are great little family-friendly filler games, and serve as a gateway to a much larger collection of games just waiting to be explored. These games are easy to learn, yet offer a surprising amount of tactical depth in a very short playing time. The price point is a small barrier until one realizes just how much playing potential the pieces offer.
Overall: Treehouse is a classic and a clever little game, and it was awarded the Origins Award for Best Board Game of 2006. Pharoah is a bit meatier, especially for games with more than two players. Of the three, Pink Hijinks is the weakest, being heavily affected by luck. In fact, all three games do suffer from a slightly high luck factor, which will often overshadow tactics or strategy. But the games themselves play so quickly and are finished fast enough that you can play them over and over again in a short amount of time.
If approached as an entry point into a vast collection of games, Treehouse is most certainly worthwhile for the price, and I have enjoyed all of the Looney Pyramid games I've played. With the huge number of Looney Labs fans, it's easy to find people to play with, and the games are great for family fun over the holidays. For this reason, I give Treehouse 4 out of 5.
Pink Hijinks is a bit tougher sell for me, though. While in theory it offers the same potential as Treehouse, since it only includes a single color of pyramid pieces you'll need at least one additional set to play the vast majority of the Looney Pyramid games. It also has a higher "price per pyramid", and the Pink Hijinks game itself is too luck-driven for my taste. But, as the "pretty pink pyramid add on kit," I'll still give it 3 out of 5.
You can read my thoughts on one of the other
Looney Pyramid
games here: "
Review of 'IceDice'
."
--
William Niebling