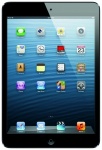 Tablets were a hot gift this holiday season, and may be diverting funds that otherwise would be spent on toys, according to the
New York Post
. The toy biz is set to post a 3-4% decline in 2012, the worst year-over-year change in 30 years, according to a BMO Securities analyst interviewed by the
Post
. This is believable given early reports that tracked fewer container-loads of toys coming into the country before the holidays (see "
Toy Imports Down 13%
").
Tablets are being given as gifts to kids as young as three years old and toy executives are "terrified" of the trend, according to
UPI
. An analyst from Needham & Company described the situation. "The top two guys, Mattel and Hasbro, they are terrified," he said. "They should be terrified, but the official party line is they're not terrified."