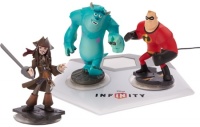 Disney Interactive will launch
Disney Infinity
, its new game incorporating collectible figures and videogame elements, in June, the company announced Tuesday. Although the outline of the new line had been generally known (see "
Lasseter to Unveil 'Disney Infinity'
"), this confirms that collectible figures and other physical game pieces will be part of the game, which will be available on all videogame consoles at launch and add various online and mobile platforms through 2013.
Four different types of physical pieces are included: Disney Infinity Interactive Pieces, a line of 40 collectible pieces that allow players to expand and customize their play; Disney Infinity Interactive Character Figures, a line of 17 figures that can be in true-to-property experiences and in "Toy Box" mode; Disney Infinity Base, on which figures operate; and Disney infinity Power Discs, which when placed on the Infinity Base power up characters and "Toy Box" with powers, customizations, and gadgets.
As previously revealed, characters from both Disney and Pixar movies will be included. At launch, figures from Pirates of the Caribbean, Monsters University, and Incredibles (and perhaps others) will be available.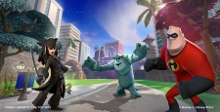 In each story-driven experience ("Play Set"), players will solve puzzles, explore, and battle enemies while collecting characters, vehicles, and gadgets and saving them to a virtual "Toy Box." Players can build and customize the world in their Toy Box using their favorite characters, vehicles, settings, and accessories, which can then be shared with friends both online and off.
Disney appears to be taking a page from Activision, which has a huge hit with its Skylanders franchise. Like Disney Infinity, the Skylanders line incorporates accessory packs and figures into videogame play. Activision announced a few days ago that the line has now generated over $500 million in sales since launch. Skylanders sells better than all the top action figure lines in the U.S., including Star Wars, WWE, and Beyblades. The sequel, Skylanders Giants, generated $195 million in sales, including figures and accessory packs, in 2012. Skylanders Spyro's Adventure was the #1 kids game of 2011.