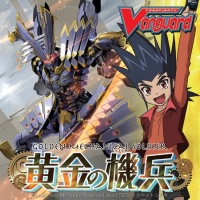 Bushiroad USA has announced the launching of the first Sneak Preview events for the Cardfight!! Vanguard Trading Card Game. The inaugural events will be held at participating hobby stores during the weekend of February 15-17, a week prior to the general release of Cardfight!! Vanguard Booster Pack Vol. 5: Awakening of the Twin Blades on February 22nd.
The Sneak Preview events provide players with an early look at the new release as well as the ability to play with some of the new cards. Stores with play areas that carry the Cardfight!! Vanguard line are eligible to purchase Sneak Preview kits from Bushiroad's distributors. Each kit will serve a tournament of up to 8 players, and each store will be allowed to purchase two kits. Each kit comes with everything needed to put on the event, including 48 booster packs (enough for 8 players to form 30-card short decks), 8 promotional cards, and two playmats. Players get to select their cards via a booster draft and players can keep the cards they select. If the players/store want to redistribute the cards at the end in another way, that is also allowed. Each player also receives a promotional card for participating and the playmats are for gifts to participants as well.
Bushiroad is also testing a Team Tournament format in February. It will involve teams of three players who square off in three simultaneous one-on-one duels. If the Team Tournament format meets with success, it could join the weekly sanctioned tournaments that have been going on for some time (and lead to the
Cardfight!! Vanguard
World Championship, see "
750 Compete in 'Cardfight!! Vanguard' Tournament
"), and the newly launched Sneak Preview events to form a three-pronged organized play program for the fast-growing game.