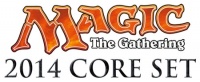 Wizards of the Coast has announced the July 19th release of the Magic: the Gathering 2014 Core Set, which will include 249 cards. The 249 cards marks this as one of the smaller of the Core Sets, which have ranged in size from 249 (Magic 2010) to as many as 449 (Fifth Edition). While WotC has not released much information about the mechanics that will be stressed in the set, the "motto" for 2014 Core Set is "Ignite Your Spark," which would appear to indicate that things could get very combustible on the tournament trail after this set hits.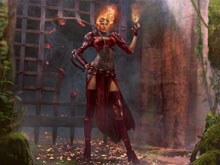 The "flame" motif is definitely on display in Brad Rigney's stunning key art for the
MTG 2014 Core Set
with its depiction of a gorgeous and literally "flame-haired" female. The
Core Sets
feature a blend of old and new cards and provide an ideal entry point into the trading card game for new and returning fans.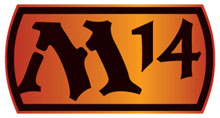 Pre-release events for the
MTG 2014 Core Set
, which is abbreviated as "
M14
," will be held during the weekend of July 13th and 14th, 2013, while the
Magic Online
release date will be July 29th, ten days after the paper product streets. The game will be available in a variety of formats including
Booster Packs, Intro Packs, Event Decks, Booster Battle Packs
, and
Fat Packs
. The traditional 15-card
Booster Packs
will each have an MSRP of $3.99.
Marc Globus led the initial design team for the M14 set, while Dave Guskin headed up the Final Game Design and Development Team.