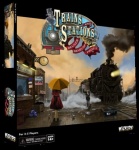 WizKids is planning an October release for Trains and Stations, a new board game designed by Eric M. Lang. Set at the height of the era of steam railroading, Trains and Stations is an economics-focused board game in which players must make deliveries, develop buildings, lay track and see to the expansion of their own holdings while working with and against other players.
Players can focus their efforts on just one economic sector like mining, or they can play a more balanced resource-acquiring game, or they could attempt to become the "delivery king" and let the other players scramble for resources. Lang, who has designed numerous games including the
Warhammer Board Game
(see "
'Warhammer Board Game'
"), clearly enjoyed working on
Trains and Stations
: "I'm excited to make a classic family style game that players will want to play over and over, and I hope others will agree that this approach stays true to what people love while offering a little bit extra that will make it worth their while."
Trains and Stations, which WizKids will introduce at Essen, comes in a deluxe game box containing a colorful game board, 50 custom dice, 45 buildings, 25 coin tokens, 1 conductor's hat token, and 118 cards.