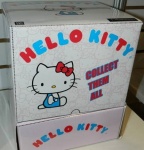 Toy Fair News: NECA has announced a licensing agreement with Hello Kitty rights holder Sanrio that will allow NECA to create a wide range of products based on the iconic brand including a HeroClix miniatures gaming collection from NECA's games subsidiary WizKids.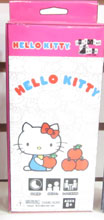 NECA's new
Hello Kitty
line will cater to collectors with a wide range of collectibles including action figures, statues, high-end lamps, calendars, tea sets, as well as what looks like at least two tabletop games, what appears to be a card game and the
HeroClix
miniatures game.
So far WizKids has not revealed the actual Hello Kitty miniatures but the packaging for the two games, which are expected, like the rest of NECA's Hello Kitty collectibles, to start shipping to retail this summer, were on display in New York.