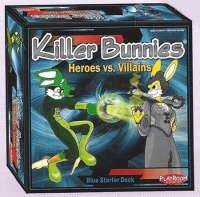 An all-new Killer Bunnies game is on tap from Playroom Entertainment. Killer Bunnies: Heroes vs. Villains is a non-collectible deck-building strategy game scheduled to release in the second quarter of 2013.
In this new game, players are no longer questing or conquering magic carrots. Instead, they control teams of superheroes and supervillians while controlling bunny cities. The goal of the game is to place four bunnies and four cities in the "bunny circle." Bunnies can be heroes or villains, and each one has its own abilities and powers.
Killer Bunnies: Heroes vs. Villains will be compatible with the Killer Bunnies and the Ultimate Odyssey game, but is designed as a complete stand-alone game. Heroes vs. Villains features new artwork and characters for the Killer Bunny IP. The suggested retail price will be $30.00.