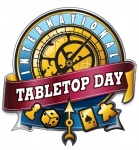 Geek & Sundry has announced that the first International TableTop Day will be held March 30th. The event will consist of game days and parties hosted at retail stores, community centers, homes, or other venues around the world. A Website has been created at
tabletopday.com
, which will serve as a hub for information with an event locator, free downloads for event hosts, and reports on events after they happen.
Sponsors include Asmodee Editions, Days of Wonder, Mayfair Games, Steve Jackson Games, and Wizards of the Coast.
TableTop, the Wil Wheaton-hosted show on Felicia Day's Geek & Sundry YouTube channel, has had a big impact on the games business (see "
Top Ten Hobby Games Business Events of 2012
"). TableTop Day is roughly the one year anniversary of its launch.