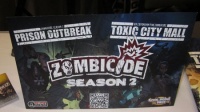 The miniatures enthusiast Website CoolMiniOrNot continues to make waves as a boardgame publisher. At the recent Gama Trade Show, the company was showing its plans for some upcoming expansion sets for its more popular titles as well as a new miniatures-based boardgame.
The zombie survival horror boardgame
Zombicide
will spawn two new titles.
Zombicide Season 2: Prison Outbreak
is a stand-alone expansion that can be played by itself or combined with the basic game. Set in an overrun prison, it includes 90 plastic miniatures. The suggested retail price will be $100.


Toxic City Mall
is a smaller expansion, focused on the ever-popular shopping mall. This expansion requires either
Zombicide
or
Prison Outbreak
to play, and will have a suggested retail price of $50.
Both expansions were successfully funded through Kickstarter, gathering more than $2,250,000 in support.
A reprint of the original
Zombicide
is expected to be available at the same time as the new expansions.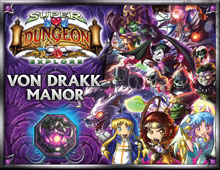 The next expansion for the fantasy monster-bash
Super Dungeon Explore
is now available. Called
Von Drakk Manor
, the expansion features legions of undead for the heroes to confront. Thirty-six pre-assembled Soda Pop Miniatures models are included in the set. Suggested retail price is $59.99.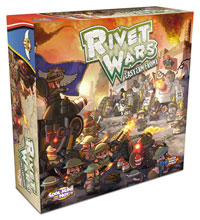 Inspired by RTS computer games,
Rivet Wars: Eastern Front
is a miniatures-based wargame set in a world locked in World War I-era technology. The game will include unpainted plastic miniatures for two armies as well as battlefield fortifications.


Rivet Wars
was funded through Kickstarter, collecting over $500,000 worth of pledged support.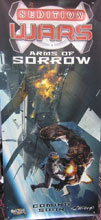 Sedition Wars: Arms of Sorrow,
the first expansion for Mike McVey's science fiction miniatures-based board game, is planned to release near the end of the year.