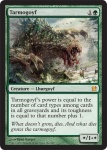 As of Tuesday, June 25, "Tarmogoyf" is the hottest card in Wizards of the Coast's
Magic: The Gathering--Modern Masters
set, as measured by dollars sold through the TCGPlayer.com Website. The average price on "Tarmogoyf" is over five times the top card from the last
Magic
set,
Dragon's Maze
(see "
Hottest 'M:TG--Dragon's Maze' Cards
").
TCGPlayer.com is the largest collectible card marketplace on the Web, with hundreds of brick and mortar sellers listed. The dollars sold are measured from June 7th (when WotC released the set) through June 25th and reflect all transactions on the site. Average price over the same period is displayed.
According to TCGPlayer.com, the average selling price has continued to increase recently, which means despite the increased supply, demand is increasing faster. For a more detailed analysis by Frank Lepore, editor of Magic.TCGPlayer.com, check out his column (see "
A Modern Success
").
"Cryptic Command," "Arcbound Ravager," and "Aether Vial," are all punching above their weight, generating more dollar volume than their average retail price would indicate.
Top 'Modern Masters' Cards by Dollar Volume

$ Vol.

Rank

Card Name

Average

Price

1

Tarmogoyf

$118.57

2

Dark Confidant

$55.82

3

Vendilion Clique

$39.15

4

Cryptic Command

$20.50

5

Arcbound Ravager

$14.86

6

Sword of Fire and Ice

$30.25

7

Aether Vial

$9.13

8

Sword of Light and Shadow

$28.94

9

Doubling Season

$15.62

10

Kitchen Finks

$4.36
Sales data courtesy of TCGplayer.com, the Internet's largest collectible card marketplace with hundreds of brick & mortar sellers listed.