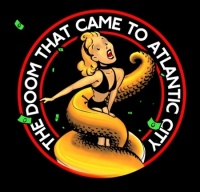 In a major fail for a Kickstarter game project, Erik Chevalier of The Forking Path Co. announced Tuesday that the company's successfully funded Kickstarter board game project,
The Doom That Came To Atlantic City!
, has been canceled. In a Kickstarter update, Chevalier announced that more than a year after the game was successfully funded (June 6, 2012), garnering $122,874 in pledges from 1,246 backers, "The project is over, the game is canceled."
Kickstarter has become a major source of funding for new game projects, with at least ten games topping $700,000 (see "
Top Ten Tabletop Game Kickstarters
"). But it was inevitable that with some game projects created by inexperienced producers, there would be substantial failures along the way.
Billed as "a light-hearted Lovecraftian game of urban destruction,"
The Doom That Came To Atlantic City!
was listed as being conceived/designed by Lee Moyer and Keith Baker, veterans to the game industry. Lee Moyer is known for his writing, color, art and design on the comic series
Starstruck
, as well as interior art work for the
D&D 4E Players Handbook
and other art for Dark Horse, IDW, Hasbro and Upper Deck. Keith Baker is a veteran game designer, best known for the Origins Award winning card game
Gloom
, but also for his freelance writing work on the
Dungeons & Dragons Eberron
campaign setting.
However, the project was put on Kickstarter by The Forking Path, Co. and Chevalier said, "After much deliberation I've had to make this decision. I've informed Keith and Lee and neither is at all happy with this situation. Every possible mistake was made, some due to my inexperience in board game publishing, others due to ego conflicts, legal issues and technical complications. No matter the cause though these could all have been avoided by someone more experienced and I apparently was not that person."
This is not the first time a game-related Kickstarter has failed (most notable is the case of the video game
Haunts: The Manse Macabre
reported last October in
Forbes
). What backers appear to be angry about is the statement Chevalier made after that, "From the beginning the intention was to launch a new board game company with the Kickstarted funds, with
The Doom that Came to Atlantic City
as only our first of hopefully many projects... After paying to form the company, for the miniature statues, moving back to Portland, getting software licenses and hiring artists to do things like rule book design and art conforming the money was approaching a point of no return." The Kickstarter never mentioned funding a new board game company, it was presented as funding for a board game.
Chevalier went on to say that "My hope now is to eventually refund everyone fully." However, no specific repayment schedule was provided.
Keith Baker responded in his
blog
, "Lee Moyer and Keith Baker are not part of the Forking Path. Neither one of us received any of the funds raised by the Kickstarter or presales. I haven't received any form of payment for this game. Lee and I were not involved in the decisions that brought about the end of this project, and we were misinformed about its progress and the state of the game."
Baker went on to say that he'd like to still get the game out to backers, but that it will be a "print-and-play" version and that neither he nor Moyer have access the backers list. Kickstarter backers are encouraged to contact him via his Website.