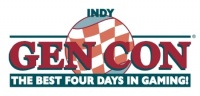 Gen Con 2013 had 49,058 unique attendees and turnstile attendance of 159,364, the organizers announced today. The number of unique attendees was up around 20% from last year's 41,000+. The show has grown over 75% over the last five years. The show was teed up for a big year, with record exhibit space and pre-registrations (see "
Record Gen Con
").
Attendance at Gen Con Trade Day doubled, Gen Con organizers said. Last year's Trade Day attracted 232 attendees (see "
Gen Con Nets 41,000 Unique Attendees
").
Show organizers also reported that Mayfair was successful at setting a new world record for the "Most People Playing
Settlers of Catan
Simultaneously" (see "
Mayfair Seeks 'Catan' Record
"), with 922 players.