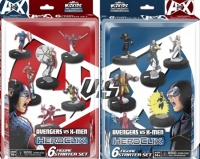 WizKids Games has announced plans for its next
Marvel HeroClix
Organized Play storyline:
Avengers vs. X-Men (AvX)
.
Marvel HeroClix: Avengers vs. X-Men
is a four-month storyline that begins in December 2013 and will run through April 2014. The OP will offer monthly participation prizes including special limited edition figures as well as five fragments of the powerful Phoenix Force HeroClix resource that players can collect "in order to combine them all into one incredible source of power." The exclusive competitive prizes will include the time travelling warrior Cable, the mutant Hope in all her White Phoenix glory, and others. The Grand Prize (awarded in month four) is a colossal
HeroClix
figure: Dark Phoenix Cyclops.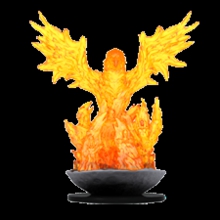 Players start in November by choosing either the
AvX--Avengers Starter
or
AvX--X-Men Starter
and using them to build teams throughout the 4-month program. Each Starter will include six figures, maps, the HeroClix Powers and Abilities Card and Core Rulebook--and all of the figures are SwitchClix, which WizKids says "will become very relevant as the
AvX
Storyline event unfolds." The starters also include team specific action tokens and custom dice.
Each month, as play progresses, players will select one or more figures from the starter associated with their chosen team, and construct a
HeroClix
force around their chosen figure(s). In the fourth month, players will receive an exclusive Team Base corresponding to the team they've selected.