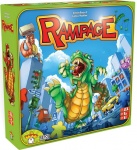 The giant-monster-movie-inspired board game
Rampage
has been scheduled for a late November release. The game was designed by Antoine Bauza (
7 Wonders
) and Ludovic Maublanc (
Cash 'n Guns
) at the Repos Production studio in France. Asmodee previewed the game at Gen Con last month, and will be distributing it in the US.
In a press release, Bauza explained the inspiration behind the game: "The idea of
Rampage
was born when I saw
Cloverfield
, a movie I didn't particularly enjoy but that gave me a renewed desire to make a game themed around daikaiju, or Japanese giant monsters."
In
Rampage
, each player controls a giant monster as it makes its way through the three-dimensional "Meeple City," trying to cause as much damage as possible as they eat the city's denizens. Gameplay centers around player dexterity. To move a monster, the player must "flick" its token like a carom. The monster playing pieces are physically used to destroy buildings. Players can even blow across the board in an effort to knock over pieces.
Rampage
will have a suggested retail price of $59.99.