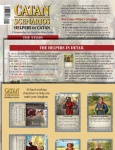 Mayfair Games has announced the September release of
Catan Scenarios: Helpers of Catan
(MSRP $5), small expansion for a very big game,
Settlers of Catan
, which was rated the #1 board game inf 2012 by ICv2 (see "
Top 10 Board Games--Fall 2012
"). This scenario for from 3-6 players was written by
Catan
creator Klaus Teuber. This expansion, which also works with
Seafarers
, includes 10 hardworking people with the skills and experience to help players create vital and successful settlements.
Catan Scenarios: Helpers of Catan
comes with 10 double-sided helper cards and 1 rules sheet. A much more elaborate expansion,
Catan: Explorers & Pirates
is also shipping from Mayfair in September (see "
'Catan: Explorers & Pirates' 5-6 Player Expansion
").