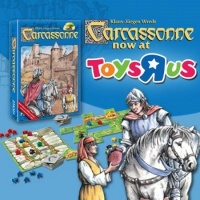 Z-Man Games announced today that
Carcassonne
, its award-winning board game, is now available in Toys R Us stores across the U.S. The TRU Website lists five products, including the base game and the
Tower, Inns & Cathedrals, Traders & Builders
, and
Count of Carcassonne
expansions. Base game is at $29.99 on the Web, discounted from a $34.99 MSRP.
Said Z-Man, "With the game now being available at Toys R Us, we are convinced that its popularity will continue to grow, since it is now accessible to a wider audience."
According to Z-Man, since 2001 more than seven million
Carcassonne
products have been sold worldwide. There are numerous expansions, mini-expansions, and spin-off games; as well as PC, console and mobile products. Designed by Klaus-Jurgen Wrede and published in 2000 by Hans im Glück in Germany, the title-based board game received the Spiel des Jahres and the Deutscher Spiele Preis awards in 2001, and has been translated into 24 languages. Rio Grande Games published the game in the U.S. until 2012, when U.S. representation went to Z-Man (see "
Alliance Will Be Exclusive Distributor of 'Carcassonne'
").
Carcassonne place #8 in the most recent ICv2 Top 10 Hobby Channel Board Games list (see "
Top 10
Board Games--Spring 2013
").