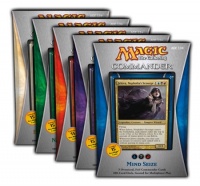 In November, Wizards of the Coast will release five new
Commander
decks for its flagship collectible card game,
Magic: The Gathering
. These new decks are specifically designed for the popular multi-player format.
Each of the five decks is pre-constructed and includes 100 cards plus three oversized foil "legendary commander" cards. Regular sized versions of the legendary commanders are also included in the deck. Fifteen cards in each deck are new
Magic
cards, including two three-color commanders--a total of 51 different new cards across all five decks. In addition to their use in commander-format games, the 51 new cards will all be legal for Vintage and Legacy tournaments.
The street date for the new
Commander
decks will be November 1st. Each deck will have a suggested retail price of $29.99.
The product is based on a fan-designed play format (see "
'Magic: The Gathering Commander'
").