Paizo Publishing has announced plans to release a follow-up to the
Pathfinder Adventure Card Game: Rise of the Runelords
deck-building game in August 2014:
Pathfinder Adventure Card Game: Skull & Shackles
will premiere at Gen Con 2014.
The
Skull & Shackles
base set will feature characters, locations, equipment, magic, monsters, and villains from the pirate-themed 2012
Pathfinder RPG Adventure Path: Skull & Shackles
(see "
'Isles of the Shackles'
"). The game offers seven character classes--including four new ones (Magus, Oracle, Gunslinger, and Swashbuckler). The box will contain nearly 500 cards and include five polyhedral dice, as well as
The Wormwood Mutiny Adventure Deck
, the beginning of the
Skull & Shackles
Adventure path. The game is for 1-4 players, and MSRP is set at $59.99.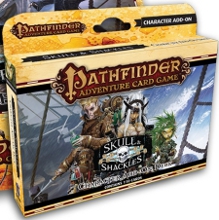 Like
Rise of the Runelords,
there will also be a
Character Add-On Deck
as well as monthly Adventure Decks available for $19.99 (see "
Expansions for 'Pathfinder' Deck Building
"). The
Character Add-On Deck
expands the game to include 5 – 6 players, and includes four new classes - three of them new (Alchemist, Warpriest, and Witch). The 110-card expansion includes more monsters and items to fill out the game.