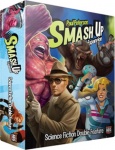 Alderac Entertainment Group has announced plans to release a sci-fi themed expansion for its hit card game
Smash Up
in March.
Smash Up: Science Fiction Double Feature
will bring four new decks to the "shuffle-building" game.
The
Science Fiction Double Feature
expansion has 88 cards which are useable for a two player game right out of the box, and can be combined with any
Smash Up
set to support up to four players. The box also contains a VP token sheet and a rulebook. The game is for 2 players (up to 4 with additional sets), ages 14 and up, and plays in 45 minutes. MSRP is set at $19.99.
The new factions each bring new abilities to the game. Time Travelers allow players to reuse their cards repeatedly, while Cyborg Apes take actions that attach to player's minions to a whole new level. The Super Spies can use their espionage skills to plot out not only the player's future but also their opponent's, and the Shapeshifters could be anybody.
The
Smash Up
base game was featured in June on
TableTop
(see "
The 'TableTop' Bump
") and has placed on
ICv2's
Top 10 Card/Building Games in the past (see "
Top 10 Card/Building Games--Fall 2012
").