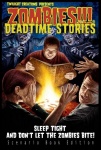 Twilight Creations will release
Zombies!!!: Deadtime Stories
, a story-driven expansion for the
Zombies!!!
board game, in March 2014. The expansion, which will retail for $19.99, will include a 72-page trade paperback scenario book with two full campaigns, several single missions, rules for combining sets and games plus extras; 10 character cards, 24 experience cards, 30 scenario cards, zombie stat reference cards, and 12 Zombies!!! Bingo cards.
Players using the expansion will be able to take on roles for the first time, achieve a variety of goals, and gain experience over multiple games.
Twilight Creations was rocked earlier this year by the death of its co-founder (see "
R.I.P. Todd Breitenstein
"), but appears to be getting its normal release flow going.