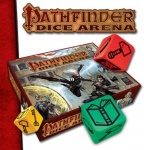 Fun to 11 has cancelled plans to publish
Pathfinder Dice Arena,
its dice game featuring heroes from Paizo's best selling
Pathfinder RPG
(see "
'Pathfinder Dice Arena'
"). The company aborted the still-in-progress Kickstarter on December 20, even though it had surpassed its funding goal of $35,000, with $47,764 pledged from 660 backers when the campaign was canceled.
In a campaign update issued the day of cancellation, the company cited feedback from the
Pathfinder
community and "a significant number of canceled pledges." Specifically, the company said that in speaking with those that canceled pledges, many said that the dice-based adaptation was "not the game play experience
Pathfinder
fans are looking for." The update went on clarify that decision to cancel the game was made exclusively by Fun to 11, not Paizo, who had licensed the property for adaptation.
Fun to 11's representative went on to write, "My favorite part of Kickstarter is that you get to test out an idea. It lets you find out what the audience thinks before you pull the trigger on producing the idea. Audience feedback on this campaign pointed to a future with a lot of unhappy retail purchases, and no one associated with this game wants to be part of that even if it means we leave money on the table."