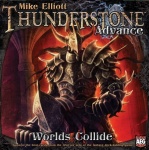 Alderac Entertainment Group will release
Thunderstone Advance: Worlds Collide,
a new expansion for the popular deck-building game, in April.
The box contains 550 cards, a rulebook, board and XP tokens. The game is for 1 - 5 players, ages 14 and up, and plays in 1 hour. MSRP is set at $49.99.
The set includes classic and fan favorite cards from the first six
Thunderstone
releases, including some hard-to-find promo cards, all updated and fully compatible with
Thunderstone Advance.