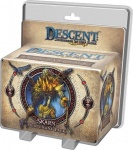 Fantasy Flight Games has announced the latest
Lieutenant Pack
for its
Descent: Journeys in the Dark
(Second Edition)
semi-cooperative fantasy board game. The
Lieutenant Packs
for
Descent: Journeys in the Dark
bring new life to the Overlord's most powerful agents, while also providing an additional level of strategic depth to the gameplay. The
Skarn Lieutenant Pack
(MSRP $14.95), which is not a stand-alone game, requires a copy of
Descent: Journeys in the Dark (2nd Edition)
to play, but in the context of the game, it unleashes massive new powers. The Skarn is a magical construct infused with life by the death of a high mage, and it possesses the ability to increase its size and strength endlessly by incorporating pieces of its environment. If left unchecked, The Skarn has the potential to threaten all of Terrinoth with its enormity.
The new
Skarn Lieutenant Pack
brings one of the Overlord's most feared minions to life with a detailed and dramatically sculpted figure that players can use to replace the lieutenant taken from the
Manor of Ravens
expansion (see "
'Descent: Manor of Ravens Expansion'
").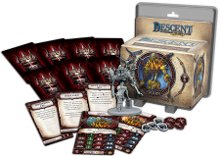 The
Skarn Lieutenant Pack
also contains a ten-card plot deck, "Twisted Soul," which can impart some of Skarn's potent defenses to a player's other monsters. The Plot Deck also invites overlords to harness the Skarn's brute power and regenerative nature in any campaign.
The
Skarn Lieutenant Pack
includes one highly detailed plastic Skarn figure, 2 Agent Cards, 10 Plot Cards, 16 Threat & Fortune Tokens, and a rulesheet.