1A Games is preparing an October release for the Kickstarter-supported
Cross Hares: Testing Ground
(MSRP $49.98), a new interactive board game designed by Jesse Labbe for 2-4 players.
Testing Ground
is the first game in the
Cross Hares
line, and it features a fairly simple premise, players who assume one of six heavily-armed
Usagi Yojimbo
-like rabbit characters have to move down a trail and "defeat" a polluting factory.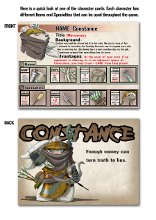 Players draw cards as their characters move down the trail, and with each character having a different set of tasks, conflicts arise, which are solved by shoving players across the map or perhaps stealing items. Cards can be good or bad for individual players or terrible for everyone. For all of its straightforward "trail" game mechanics,
Cross Hares
is a surprisingly dark "bunny" adventure set in a polluted dystopian world that depends on rabbits with special powers to make things right.
1A Games, which is well-known for its military games like
Tides of Iron
, will be demoing
Cross Hares: Testing Ground
at GenCon prior to the game's October release.