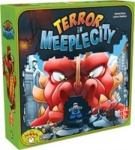 Asmodee will update two existing board game titles this summer, one planned, one not. The city smashing game
Rampage
will be retitled, and the second edition of
Cash 'n Guns
will feature new art by John Kovalic.
The daikaiju-inspired
Rampage
, designed by Antoine Bauza (
7 Wonders
) and Ludovic Maublanc (
Cash 'n Guns
) at Repos Production, was released last year (see "
'Rampage' Board Game
"). The name was too close to another trademarked product, Asmodee said, and will be rebranded
Terror in Meeple City
. Asmodee stated that the "game logistical information" will remain the same; the only change is the name. The new edition will appear sometime in Q3.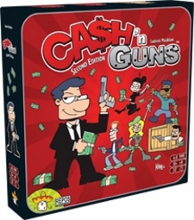 Cash 'n Guns
is another Repos Production game from 2005, designed by Ludovic Maublac. The second edition, due in August, will feature new art by fan-favorite John Kovalic. In this humorous card game of bluffing and negotiation, players take the rolls of gangsters who have just pulled off a very successful heist. But back at the hideout, disagreements break out over who gets the biggest cut of the loot. Players point foam pistols at each other and attempt to intimidate their opponents into giving them the larger share.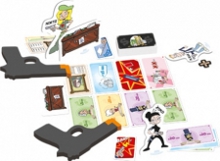 The box contains 8 foam guns, 18 wound tokens, 9 plastic stands, 8 characters, 1 New Godfather token, 1 Godfather's desk, 1 Diamond bonus token, 16 power cards, 64 bullet cards, 64 loot share cards, and rules. The game is for 4 - 8 players, ages 10 and up, and plays in 30 minutes. MSRP is $39.99.