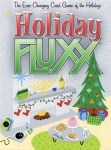 Looney Labs will release a festive new edition of their hit card game this fall.
Holiday Fluxx
will arrive on October 3rd.
The 100-card set will encompass holidays from Halloween to New Year's, and is intended as a family-friendly introduction to
Fluxx
, and perfect for use as stocking stuffers.
The 'Keeper' cards will feature new retro-style painted art from artist Ali Douglass, who has illustrated several American Girl books, as well as North Star Games'
Happy Birthday
and other titles. The 'Keeper' cards are all new with this deck, and Looney Labs will have an exclusive "Mrs. Claus" promotional card for stores that order the launch kit.
Stores that sign up for the Looney Labs marketing list will also be able to request multiple copies (25 -30) of Looney Labs' annual holiday giveaway in early fall. In the past these giveaways have included everything from exclusive promo cards or pieces for a current game to a new micro game or a puzzle. Amber Cook, Director of Sales and Marketing at Looney Labs, said they have other promotional plans for the game, which will be announced closer to the release date.
The game is for 2 -5 players, ages 8 and up, and plays in 5 -30 minutes. MSRP is $16.00.