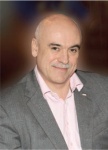 Konstantin Krivenko, founder and owner of Russian board game and model kit company Zvezda LLC, passed away suddenly on July 5th from a very virulent lung infection.
Krivenko founded the company on July 1, 1990, and grew the company into Russia's largest manufacturer of model kits and board games, which now employs more than 200 people. In 2002, Zvezda became the first Russian company to exhibit at the GAMA Trade Show, and also became an exhibitor at the International Spiel Toy Fair in Essen, Germany. Zvezda is well known in the US for its Origins Award-nominated "Art of Tactic" game system designed by Krivenko (see "
'The Ships: Armada Invincible'
"). Zvezda recently won an Origins Award for Best Historical Board Game for
Samurai Battles
(see "
'Samurai Battles'--Two Games in One Box
"). The company also recently released Disney /Pixar licensed models and a racing game for
Cars
and
Planes
(see "
Zvezda--Disney's 'Cars' and 'Planes'
").
"It was mainly Konstantin's devotion, focus and personal motivation that has driven our company to the high international esteem within the hobby and game markets," read a company statement. "It is his example that will inspire us to achieve his dreams for the future. We assure you that thanks to his foresight we have the means and destination to continue the future development of our company."
Krivenko is survived by his wife Maria, and his children Vasilisa and Alexander.