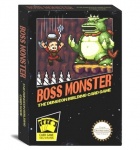 Gen Con News:
At Gen Con, ICv2 caught up with Johnny O'Neal, co-founder of Brotherwise Games and lead designer of
Boss Monster
, to hear about how the game has sold so far, as well as plans for an online version and the
Boss Monster 2
expansion, which was hinted at during promotion for the first mini-expansion (see "
'Tools of Hero-Kind'
") last year.
The indie card game recently took the #5 spot on ICv2's Spring Top 10 Card/Dice Games chart (see "
Top 10 Card/Dice Games--Spring 2014
"), despite recent stock issues. "For the core game, we've moved around 70-80,000 units," O'Neal said. "We've had some out of stock issues that we think have limited some of our sales, and now we've ordered almost as many units as we've sold up to this point, so we think we have enough inventory to last for the next year, unless sales continue to increase, and even then we'll have plenty."
"We're currently developing
Boss Monster 2
. This is going to be a stand-alone 160-card expansion playable on its own, or you can combine your cards with your original set--either mash them all together or make your favorite combination of the cards. We think that's a great way to do an expansion; it's the way Stoneblade handles their expansions for
Ascension
. Those guys are buddies of ours, and we're emulating that."
The new expansion has the same game play and mechanics as the first set. "It's all new cards; there's more card variety; there will be new epic spells and cooler heroes who have abilities built into (their cards)," O'Neal said.
"The number one thing we've heard about
Boss Monster
is that it's working as a gateway game. There are few card games out there that are good games to get your friend that loves video games that you think would love tabletop games but hasn't given them a try yet, or your spouse or girlfriend or boyfriend who may not be a big gamer, that is enjoyable for those folks."
"Once we realized that
Boss Monster
is less of a hardcore game, more of a soft-core game, we've been trying to build some of our expansions around that, so that it remains very accessible" he explained.
"Kickstarter has obviously been huge for us, it's the reason we exist as a company. We're sort of the thing that Kickstarter was meant to create. So we're currently Kickstarting the iOS and Android version of
Boss Monster.
We've heard from friends in the industry who have launched additional versions of their game that it's really helped their retail sales, that's it been a boost rather than cannibalistic. Retail is our first priority."
"At the end of the year we'll be doing a Kickstarter for
Boss Monster 2,
and we're planning a Q1 2015 release for that."