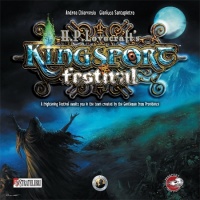 At Gen Con, Passport Games was showing off two upcoming games co-produced with Stratelibri:
Kingsport Festival
and
Provincia Romana.
Both are planned for mid-to-late October release.
Richard Dracass, Chief Business Officer at Passport Game Studios, described
Kingsport Festival
as "
Kingsburg
meets Lovecraft" with "that same mechanic that everyone loves from that game."
Kingsburg
was nominated for several game awards, including an Origins award in 2008 (see "
Origins Awards Finalists Announced
"). The game is designed by Andrea Chiarvesio (
Kingsburg
,
Arcanum
) and Gianluca Santopietro (
Letters from Whitechapel
). In this horror game, players take the villainous role of cult leaders, out to dominate the city. Players need to reserve their sanity, overcome the investigators out to stop the cults, and overcome unexpected events.
The box contains 20 Elder God sheets, 16 building tiles, 5 player tokens, 110 cards,165 wooden pieces (6 scoring markers, 79 resource markers, 65 control cubes, 15 dice), a game board and rulebook. The game is for 3-5 players, ages 13 and up, and plays in 90 minutes. MSRP is $60.00.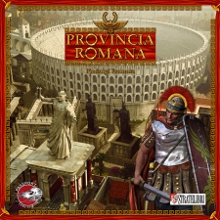 Provincia Romana
is "an engine building, resource management game," said Dracass. Designed by Pierluigi Frumusa (
Swordfish, Lupin the 3rd
), players take the roles of governors of different ancient Roman cities (Forum Julii, Arelate, Loupian, Tolosa, Narbo Martius and Massilia), and must manage their city's economy and resources: building temples and coliseums, seeing to the city's defense, and forming agreements with the Roman Senate. The goal is to become the most prestigious governor and become the new Proconsul of a mighty Provincia Romana.
The box contains 242 cards, 6 player sheets, 18 wooden discs, 115 wooden cubes, a wooden pawn, a punchboard, a game board, and rulebook. The game is for 2-6 players, ages 13 and up, and plays in 100 minutes. Tentative MSRP is $55.00.