Scott Gaeta, most recently Chief Operating Officer of Cryptozoic Entertainment, has formed a new company, Renegade Games, to publish "light to medium hobby strategy games," he told ICv2. It will begin releasing new games, all original games by name designers, starting next year.
Renegade has also acquired rights to several titles from Cryptozoic, and will begin acting as publisher for those titles immediately. They are: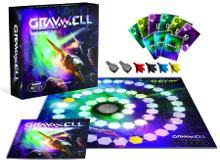 Gravwell
The Cryptozoic printing of
Gravwell: Escape from the 9th Dimension
(see "
'Gravwell: Escape from the 9th Dimension'
") was sold out, so a new edition of this board game will be the first product packaged by Renegade. The Renegade edition, with refreshed packaging, an updated look, and all new art (as pictured here), will be released around Thanksgiving.
Gravwell
, designed by Corey Young, was a 2014 Mensa Select game, and will be featured in the Mensa Holiday Gift Guide.
Doom that Came to Atlantic City
Cryptozoic rescued this game, which had been a Kickstarter project in danger of not shipping to backers, and released it and made good on the Kickstarter commitments (see "
Cryptozoic Saves 'Doom'
"). The first printing is close to sold out, and Renegade will reprint.
ROFL
Renegade acquired the remaining inventory of this John Kovalic party game (see "
Cryptozoic, Kovalic Partner on 'ROFL'
") and will begin selling it immediately.
Word Whimsy
Renegade acquired the remaining inventory on the social card game
Word Whimsy
(see "
'Word Whimsy'
'), but there wasn't much of it, so a new, refreshed edition with updated packaging is planned soon.
Double Feature
This new game from John Kovalic was acquired but not released by Cryptozoic (see "
Kovalic 'Double Feature' Movie Card Game
"); the first edition will be released by Renegade on a date to be announced.
Gaeta was one of the founders of Cryptozoic, originally formed as the publishing company for the
World of Warcraft TCG
(see "
Cryptozoic Gets 'WoW TCG'
"), and currently the publisher of a wide variety of licensed geek culture board and card games, including hits tied to
The Walking Dead, Adventure Time
, and DC Comics. He remains a consultant to Cryptozoic Entertainment.
Prior to Cryptozoic, Gaeta held a number of positions at Upper Deck, including product manager for the
Vs.
brand, Director of Business Development, and Director of Marketing. Gaeta was Senior Vice President of the game studio at Decipher. On the solo entrepreneurial side, he is also a former retailer, and former owner of a poster company.