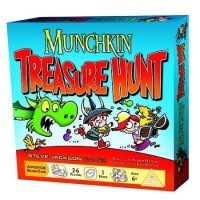 Steve Jackson Games has announced a new board game version of
Munchkin, Munchkin Treasure Hunt,
which will be sold exclusively by Toys R Us.
The board game includes the same basic
Munchkin
idea (fight monsters, steal their stuff), but is targeted at a younger audience, ages 6 and up. The game is billed as an introduction to tabletop games for kids. It is designed by Andrew Hackard and illustrated by John Kovalic.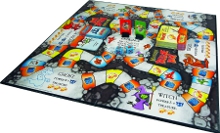 Munchkin Treasure Hunt
game will include 100 cards (including 4 blank ones), two dice, six pawns with plastic stands, a game board and a rulebook. The game is for 2-6 players, ages 6 and up, and plays in one hour. MSRP is $29.95.
This is not the first mass merchant
Munchkin
exclusive; last year SJG granted an exclusive to Target for
Munchkin Legends
(see "
Target 'Munchkin' Exclusive
"), though it released the game to trade after a year (see "
'Munchkin Legends' Hits Hobby with Expansion
").
The deal comes just a month after TRU announced it had completed its inventory clearance strategy (see "
Toys R Us Finishes Clearing Inventory
").