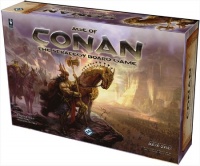 Ares Games announced it has signed a deal with Conan Properties International LLC to re-launch
The Age of Conan
strategy board game, as well as produce new expansions.
Age of Conan- The Strategy Board Game
is based on the character and the world created by R.E. Howard, and is designed by the same team who created the
War of the Ring
board game: Francesco Nepitello, Marco Maggi, and Roberto Di Meglio. The game was released by Nexus Editrice, and licensed for U.S. release by Fantasy Flight Games in 2009 (see "
Nexus Editrice to Preview 'Age of Conan'
" and "
Sculpts for 'Age of Conan Board Game' Revealed
").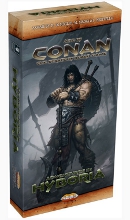 Ares Games reached an agreement with Fantasy Flight Games to acquire all the remaining inventory of the first English edition of the game, and plans to relaunch the game by publishing a new expansion as well:
Adventures in Hyboria
, which will focus on Conan's role in the game as well as add new flavor to the various kingdoms.
"We are very happy that, thanks to the amicable deal with Fantasy Flight Games, we will be able to offer immediately the current edition of the
Age of Conan
strategy board game to our customers," Christoph Cianci, CEO of Ares Games, said. "We look forward to relaunching this great game with the new expansion. The design elements added by
Adventures in Hyboria
make the game even more exciting, giving a new depth to the interaction between players and to the adventuring life of Conan."
The
Age of Conan
base game box contains: Over 150 tokens, 13 dice, 168 plastic figures (in 4 sets), a Conan figure and Destination marker, 165 cards, a rulebook and a game board. The game is for 2 - 4 players, ages 12 and up, and plays in about 90 minutes. MSRP (from Fantasy Flight) is $79.95.
The new expansion will be launched with a Kickstarter campaign in October, with plans for a Spring 2015 release.