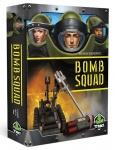 Tasty Minstrel Games will release
Bomb Squad
, a cooperative, real time board game of disarming bombs and rescuing hostages, in Q2 2015.
Players work as members of a team programming a robot which is trying to disarm bombs and also save hostages. Players hold their cards away from them, facing other players, and their teammates give each other "Intel" to figure out what cards they have in their hand. Deduction must be used, since "Intel" is the only conversation allowed among players. Racing against the clock to complete mission objectives in real time adds to the pressure to work efficiently together.
The box contains a rulebook, a mission book, a robot control frame, 2 battery markers, 4 robot tiles, 6 double-sided floor tiles, 15 role cards (Chief, Engineer, Operator), 54 instruction cards, and hostage, door and bomb tiles. The game is for 2-6 players, ages 10 and up, and plays in 20-40 minutes. MSRP is tentatively $40.00.
The game was funded via Kickstarter, where it raised $77,252 from 1,879 backers ($41.11/backer average).