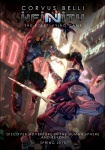 Modiphius Entertainment has licensed Corvus Belli's popular
Infinity
miniature skirmish game to produce a line of roleplaying games, with launch planned for Q2 2015.
Spanish company Corvus Belli launched
Infinity
in 2005, and the sci-fi wargame and miniatures range has been gaining popularity in North America in the last few years (see "
'Infinity--Operation: Ice Storm'
"). Now Modiphius will adapt the setting, using its in-house 2d20 roleplaying system designed by Jay Little for
Mutant Chronicles
(see "
Jay Little on 'Mutant Chronicles'
"). The system encourages cinematic action with simple mechanics, and new rules will be developed to introduce hacking, playing characters who are fragments of an AI, space travel, and more.
The first book,
Infinity, The Roleplaying Game: Adventures in the Human Sphere and Beyond,
will release to retail in Q2. The hardcover, full-color book will have an estimated price of $64.99, depending on final page count. Modiphius also plans to run a Kickstarter campaign in the summer to fund further expansions, including campaigns, supplements, custom dice, new RPG miniatures, geomorphic floorplan tiles and more.
"As
Infinity
was created by roleplayers, our secret desire has been always to release the RPG version of the game. Unfortunately,
Infinity
requires all our time and we were unable to create the RPG everyone has been asking for," said
Infinity
background developer Gutier Lusquinos Rodriguez. "So, when Chris (Birch of Modiphius) contacted us we felt very happy, as he demonstrated a deep understanding of the universe and spirit of
Infinity.
"