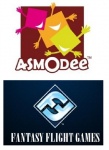 Asmodee today announced a merger with Fantasy Flight Games, the second American acquisition by the European Asmodee Group in six months (see "
Asmodee Acquires Days of Wonder
"). This also marks the third time since 2011 that an international company has acquired an American game manufacturer (see "
Canadian Company Buys Z-Man Games
").
The merger will strengthen Asmodee's North American line by adding Fantasy Flight's strong licensing library for
Star Wars, Game of Thrones,
Lord of the Rings
and
Sid Meier's Civilization
as well as in-house properties for board, card and roleplaying games. It will also give Asmodee access to FFG's well developed North American operational, marketing, and in-house game development infrastructure.
Fantasy Flight will gain greater access to Asmodee's distribution and marketing base in Europe. In Europe, Asmodee owns distribution companies in the UK, Germany, and the Benelux countries, in addition to its home country of France, through which it sells many games beyond its own, including those from the U.S., such as
Magic: The Gathering
. It also has exclusive distribution relationships with some game companies, such as Days of Wonder for
Ticket to Ride
in some countries. It is the channel to the market for the
Pokemon
TCG in France, the UK, Belgium, and Spain.
Fantasy Flight Games will continue to operate as a fully independent publisher in the Asmodee Group out of its Roseville, MN headquarters and Fantasy Flight CEO Christian T. Petersen will continue in his current position, while also becoming a significant shareholder of the combined entity.
While no staffing changes are anticipated, an Asmodee representative shared additional details on future branding. "FFG's new and existing product lines will continue to be developed by FFG and sold under the FFG logo. A few of FFG's products, whose identity may be deemed a better fit under a different Asmodee Group brand, may transition within the group."
"Similarly, Asmodee's existing and new products will continue to be developed by Asmodee's creative staff and/or affiliate studios, and published under the Asmodee, or the independent studios', logo. Those Asmodee games deemed a great fit for FFG may transition to FFG's catalog."
Asmodee's acquisition of Days of Wonder this summer differed significantly. The technical merger will see Days of Wonder executive staff "step back" after a transition period (see "
Asmodee Acquires Days of Wonder
").