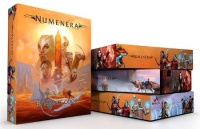 Monte Cook Games has launched a Kickstarter for an exclusive
Numenera Boxed Set Edition
, with a retailer level, that will not be available later through distribution.
The $280 retailer level includes six box sets. Each box set will contain all the game content from the standard
Numenera
core book broken out into four separate booklets (
Player's Book, Setting Book, GM Book, Adventure Book
) "for ease of use around the gaming table," as well as a poster map, six character sheets, and a character creation handout. Backer fulfillment is planned for April.
The company chose to release the deluxe edition after seeing the boxed set designed by their Italian translator, Wyrd Edizioni, for the recent Italian launch of the game at the Lucca Comics & Games Festival. Wyrd Edizioni had decided that a boxed set would do better in their marketplace than a single hardcover book. "Boxed RPGs are a tough sell in the US retail market, so we'd never really considered going that route," said the Kickstarter. "But we love the Italian version. We loved it so much we started planning an English language Numenera boxed set project."
The solicitation for the retailer level touted the exclusivity aspect. "Retailers who bring in the boxed set will have a unique product, great for new players and collectors, that's not available anywhere else," it said.
Monte Cooke will be releasing the
Numenera: The Ninth World Guidebook
to trade in January (see "
'Numenera: The Ninth World GuidebooK'
"). The company also recently announced plans to release a comprehensive book for its in-house RPG rule system in Summer 2015 (see "
'The Cypher System RulebooK'
").