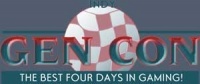 Despite a few opening day registration problems, GenCon settled into its new digs at the Indiana Convention Center after 35 years in Wisconsin (see 'GenCon Says Goodbye to Milwaukee'). The move was made because of the limited hotel space in Milwaukee, and an expected 22,000+ attendees (flat from previous years) occupied more rooms in a four-block radius surrounding the convention center than were used in the entire city of Milwaukee. The exhibit hall was 40% larger than last year, at 175,000 square feet and 600 booths.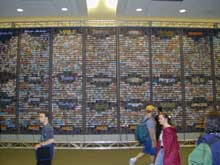 Upper Deck made a statement about its dominance of the CCG business (the largest category in games) with its huge hit Yu-Gi-Oh! by signing on as co-sponsor and taking more space than Wizards of the Coast, the corporate successor of show founder TSR. As counterpoint, WotC celebrated the 10th anniversary of the game that created the CCG category, Magic: the Gathering, as it prepared to release Magic 8th Edition this Monday (see 'WotC Redesigning Magic: The Gathering'). And it emphasized its dominance of the RPG category by launching D&D 3.5 the week before the show (with some release date glitches, see 'WotC Reviewing Distribution Policy').
Among other strong releases at the show were WotC superstar Monte Cook's Arcana Unearthed, an 'alternate player's handbook' compatible with Dungeons and Dragons from White Wolf's Sword and Sorcery under Cook's Malhavoc Press imprint. The book sold out on Thursday and more copies had to be air-shipped in. A White Wolf spokesperson said that the book was selling twice as well as expected, and was the best White Wolf GenCon launch in the last five years. Among the reasons for the product's success was the fact that the release was supported by miniatures from Iron Wind Metals, t-shirts, dice bags, and game releases from Mystic Eye and Fiery Dragon, creating interest and floor presence for the property around the floor.
We're reporting on major events at the show today and in the coming days -- stay tuned for more.