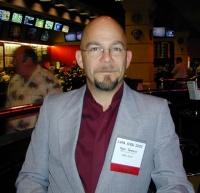 GAMA Executive Director Mark Simmons has released a statement announcing his resignation. He has been involved with GAMA for ten years, the last five as the organization's ED. Simmons' biggest achievement was the reconstruction of the GAMA trade show, which has become one of the industry's premier events. As the organization's executive director, Simmons was responsible for GAMA's day-to-day operation as well as trade show planning.
Simmons cited the high stress level of the job as his reason for resigning. He expressed an appreciation for and confidence in both GAMA Finance Director Chris Watson and President Chris Wiese. Simmons sees Watson as a 'potential successor' in the post of Executive Director and feels that he is leaving GAMA 'with capable leadership.' Simmons will turn to publishing Games Quarterly Catalog full time, .
Simmons' tenure as Executive Director was not without turmoil. Earlier this year he apologized for the 'inadvertent publication' of a draft report of the GAMA Retail Division board, an action that led to the resignation of D.P. 'Vern' Vernazzarro from the organization (see 'GAMA Notes').