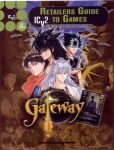 The new ICv2 Retailers Guide to Games #4 reports that the 2003 game market grew in three of four categories over the previous year, with CCGs, miniature games, and board and family games all up, and RPGs down. ICv2 estimates that the CCG market grew to around $850 million at retail in 2003, led by increased sales in the top two brands, Yu-Gi-Oh! and Magic: The Gathering, and solid sales in a number of other lines. ICv2's 2002 estimate was $750 million.
ICv2 also reported that the miniature game market was up, to $200 million in retail sales, vs. $170 million the previous year. Games Workshop increases, relatively flat sales from WizKids, and solid sales of Dungeons and Dragons and Lord of the Rings CMGs are all behind the increase.
Board and family games also continued to grow in 2003, with German-style board games leading the charge in the hobby channel.
RPGs were a different story, dropping around 15% to under $30 million at retail last year. Non-Wizards of the Coast d20 games were the hardest hit.
For more information from ICv2's 2003 market report, see 'ICv2 Releases Guide to Games #4.'